NEWS/ UPDATES
BUILDING HEALTHY ECONOMICS
Healthy Economics is the day a community once termed low-income, underserved becomes independent and self sufficient.

Our strategy to build healthy economics revolves around four programs that work together to partner the food system to the school system. This partnership in short means that every school should have a garden, a farmers market and plans for coop grocery stores that would enable the schools population (the local community) to benefit through internships, jobs and ownership while improving its food system.
The four programs to bridge this partnership between the food and educational system are 1stSaturdays.com, Friends of School.org, the Intergenerational Enterprise.com and of course, Mo' Better Food.com.

How do these programs work together?

The path is quite simple for an individual or an organization.
1) Become a friend of the school in your community.
2) Create an intergenerational enterprise that invites volunteers once a month (every 1stSaturdays) to build Mo' Better Food (gardens, farmers markets, etc) in your community.
3) Say 12! 12 represents 12 volunteer days a year (once a month)

Join us December 1st for the first 1st Saturdays volunteer event.

Between now and December 1st, we are seeking event coordinators locally, nationally and globally to host 1stSaturdays at their local school.

Our site 1stSaturdays.com is currently mapping the largest school gardens in Oakland Unified School District and seeking event coordinators, or what we call The Intergenerational Enterprise (other volunteers) to come out once a month to maintain and improve these gardens.
If you would like to get your school/ city involved contact us!
Join 1stSaturdays today!
THE FOUR STEPS OF HOTEP ON SALE NOW!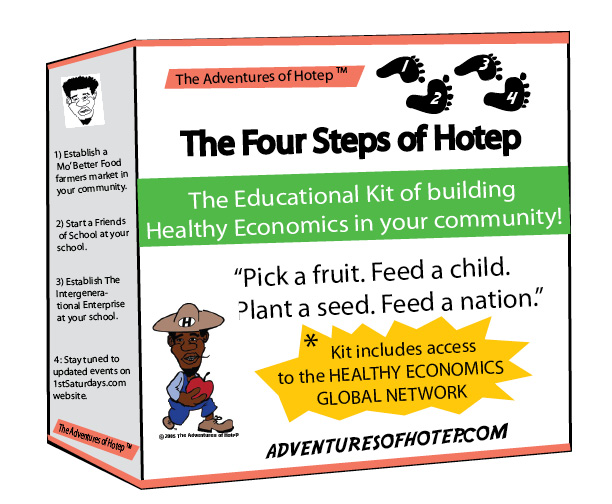 The Four Steps of Hotep was written as a start now guide for anyone interested in building Healthy Economics in their community. Everyone should have their own copy and read together for the 1st session from cover to cover. This usually takes about 45 minutes.

The Four Steps of Hotep illustrates the four programs and websites of The Familyhood Connection Inc used to build healthy economics.
The Four Steps of Hotep is a 28 page handbook that gives a brief history lesson on an early farm to school model - The Tuskegee Model. Founded in 1881, The Tuskegee Normal School, headed by Booker T. Washington is one of America's great stories often overlooked.

After reading the Four Steps of Hotep, each participant should refer to the websites for updates and news. Each of the websites will contain additional information and networksto assist each community in building healthy economics.

FOUR STEPS OF HOTEP - The book retails $5.00

JOURNEY TOWARDS BUILDING HEALTHY ECONOMICS
FROM THE FOUNDER - David Roach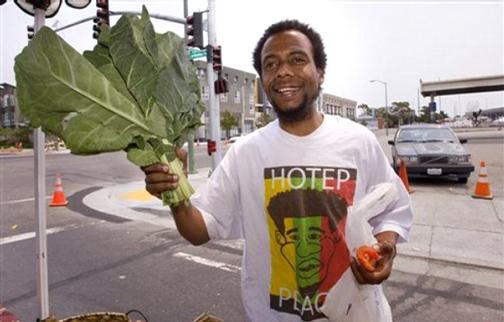 I first became aware of the land loss issue in Black America when prompted to research economic solutions for the African American community while at Morehouse College. The assignment was given to me by Dr. Wiliam Sheftal, then Director of the Business Department at Morehouse College and instructor of the class Urban Economics and Public Policy.
DONATE TO THE FAMILYHOOD CONNECTION INC
The Familyhood Connection Inc is a 501 (c-3) corporation with a mission of promoting programs that bring together the generations as a strategy of developing community. Healthy Economics is our vision and the four programs above are our strategies. Follow me at http://twitter.com/mobetterfood. Follow us at: http://twitter.com/familyhood, http://twitter.com/healthyeconomy
Purchase the book for $10.00 and make a $5.00 donation to
The Familyhood Connection Inc.